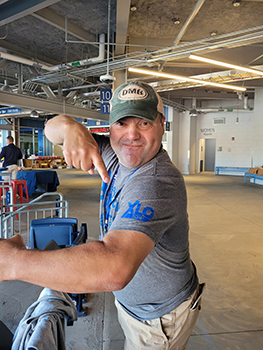 ON-AIR:
Weekends
REQUEST LINE: (508) 373-1045
Hi i'm Seth LoRusso! I grew up on the Cape and I started my grand and glorious love of broadcasting at Cape Cod Community College. I am a proud WKKL Alum! I was part of the Naked Radio Morning show on 104.7FM where I gained the nickname Sethyspice! When the morning show disassembled I worked weekends for a few other radio stations on the Cape and later in Manchester NH.
While living in NH, A gorgeous redhead decided to marry me. We had two beautiful babies and I took a break from radio to help raise my family.I now live in Northborough and have two kids in High-school. So I'm not changing diapers as much anymore! And so my grand and glorious love of broadcasting now continues on 1045 XLO!!
If you have been to any of the XLO promotion events the past few years you most likely have already met me. Most people come up to me at XLO events and ask me if I'm Frank Foley!! You can follow me on Instagram @Sethlorusso
Thank you so much for listening!!!!